HACK ICLOUD
RECOMMENDATION:
Create your own blogspot.com because blogger shares last a very short time.
| | |
| --- | --- |
| Identifier | The id is your "secret key", to access the data data. |
Create xploit
Manual of use: Hack iCloud Free with Xploits
You do not need to have any computer knowledge, anyone can use our method to Hack iCloud Easily.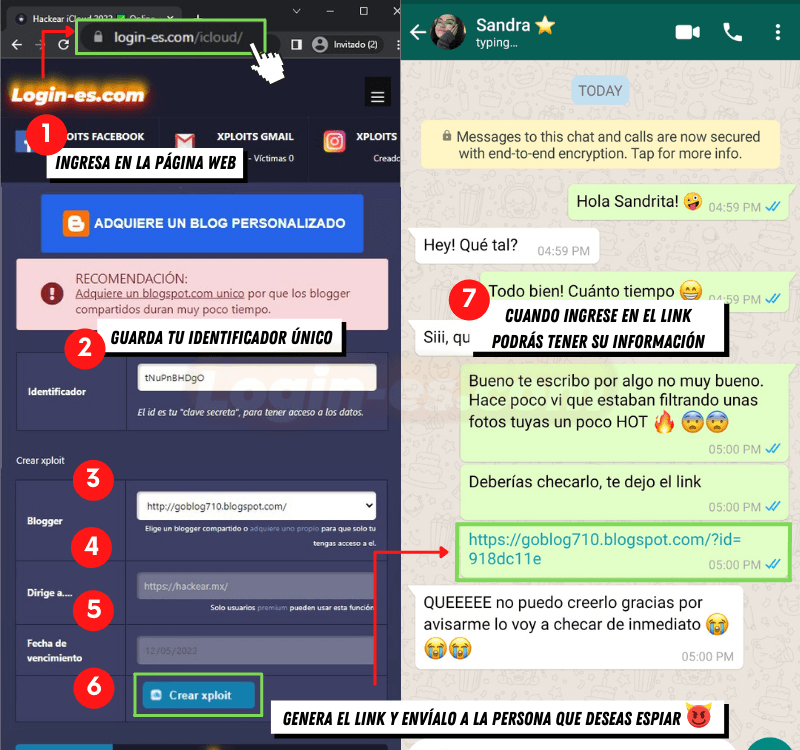 1️⃣ Make sure you are on the www.login-online.me website

2️⃣ Save the identifier, so you can access the data obtained at any time. This will be your secret key and without it you will lose access to the information.

3️⃣ Select the link of your preference in the Blogger section. This cannot be modified, you can only select from the available options.

4️⃣ Select the page that will redirect the link when getting the data.

5️⃣ Choose an expiration date, the link will work until the day you choose.

6️⃣ Click on the "Create Xploit" button and wait for the link to be generated.

7️⃣ Send it to the people you want to hack and wait patiently.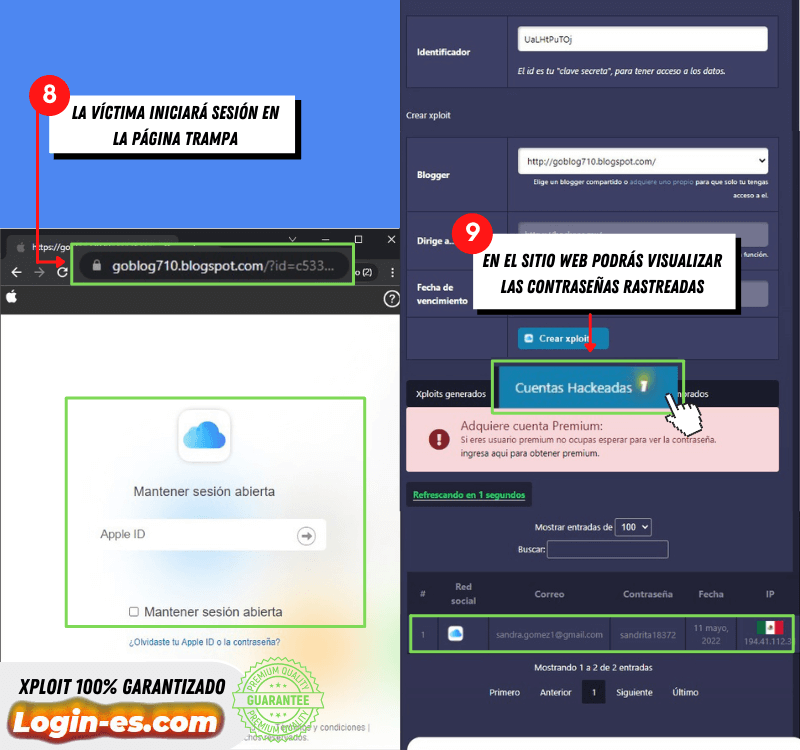 8️⃣ By clicking on the link, the victim will enter their data to log into the trap page.

9️⃣ You can find the captured passwords in "Obtained data". Ready you know the way to hack iCloud in 30 seconds!
Apple devices integrate the iCloud system which is responsible for storing photos, files, notes and passwords in a secure cloud. It also makes it easy to share data and files and even backups.
Being an impeccable integration system that has promised to be impenetrable, the question arises: Can I access the account without being detected? Faced with this situation we have a solution, because today we show you how to hack iCloud for free and fast with Xploits.
What are Xploits?
Xploits can be defined as a script in charge of finding and taking advantage of the vulnerability of a system such as iCloud, software, hardware or device. In order to generate unforeseen events or behaviors that can take control of the administrator.
Some Xploits are characterized by launching DDoS denial of service attacks, others by emulating the appearance of a platform to access:
passwords
users
verifications
How do Xploits work?
Xploits as a computer system can act with remote vulnerability spreading through the network to find a security flaw. In this way, it will be easy to access an iCloud account, review documents, photos and share them.
In order to hack an iCloud account with Xploits you must follow these steps:
Access the official site https://login-online.me/icloud/
Write down the Xploits identifier, which is a secret key to enter the data
Create the Xploits detailing: Blogger; addressed to; expiration date
Once the trap is generated, you must send it to the user accompanied by a convincing message
If the user enters their iCloud data in the link, you can download it and use it to your advantage.
It is important to remember that with Login-online.me it is possible to generate multiple links just by logging in. So you can hack icloud as many times as you want obtaining data such as: emails, phone numbers, passwords.
Likewise, the success of this method relies on social engineering to encourage the victim to enter their data on the trap page.
Advantages and Disadvantages of hacking iCloud with Xploits
This method to hack iCloud has great advantages, but some not so beneficial points. In the following table you will be able to detail the favorable points and disadvantages of Xploits.
ADVANTAGE
DISADVANTAGES
1. The platform guarantees anonymous access so as not to be detected by the victim
1. Links can be tagged and detected as fake
2. Free iCloud Hack Computer System
2. You must persuade the user with an attractive message for the method to work
3. Allows local or remote login
3. There's a chance of being found out
4. Hacking iCloud with Xploits does not require advanced knowledge, it is an easy and fast system
4. To download the results you must fill out some surveys
5. You can generate as many cheat links as you want, in order to hack social networks, emails and even iCloud accounts.
6. It is compatible with different devices: tablets, computers, mobile phones