Scams for Instagram
RECOMMENDATION:
Create your own blogspot.com because blogger shares last a very short time.
| | |
| --- | --- |
| Identifier | The id is your "secret key", to access the data data. |
Create xploit
Manual of use Xploit Hack Instagram Free 2023
Our tool is updated every day, which allows you to use it 24 hours a day without any problem.
Start now to Hack an Instagram account without pay without survey, without having to be a technology engineer, just follow the step by step that we indicate here: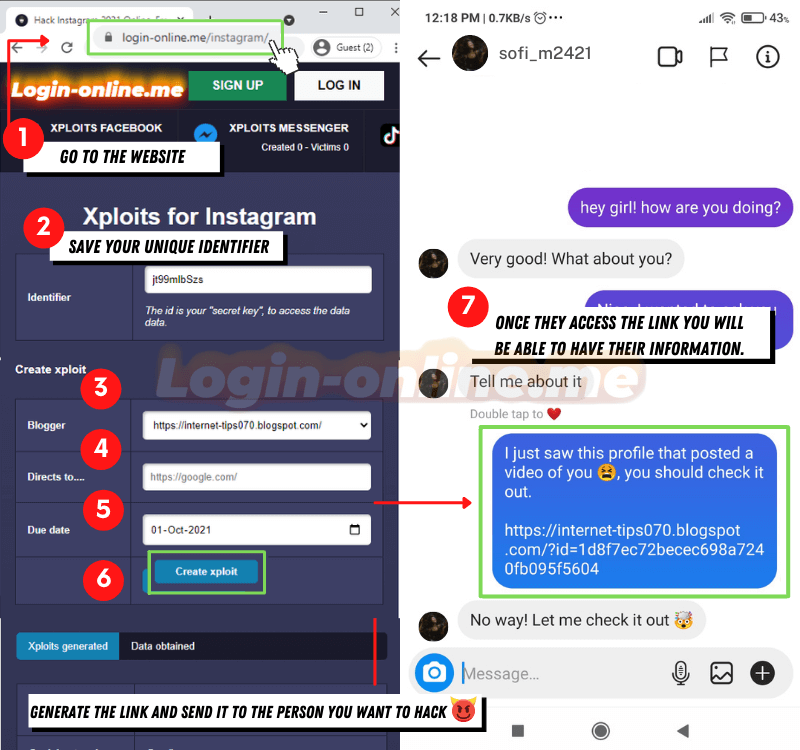 1️⃣ Make sure you are on the website www.login-online.me

2️⃣ Save the identifier, so you can access the data obtained at any time. This will be your secret password and without it you will lose access to the information.

3️⃣ Select the link of your preference in the Blogger section. This cannot be modified, you can only select from the available options.

4️⃣ Select the page that will redirect the link to get the data.

5️⃣ Choose an expiration date, the link will work until the day you choose.

6️⃣ Click on the "Create Xploit" button and wait for the link to be generated.

7️⃣ Send it to the people you want to hack and wait patiently.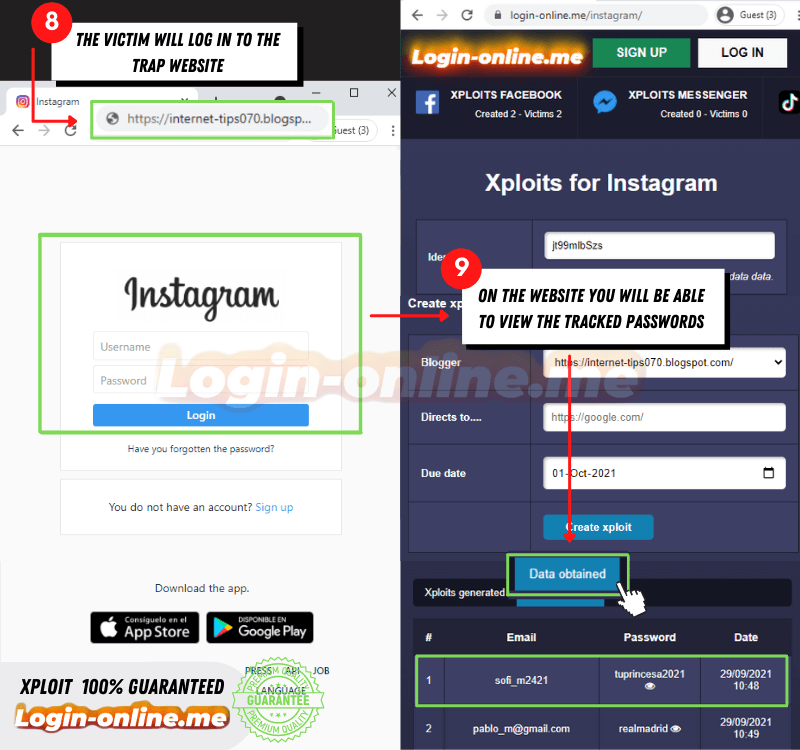 8️⃣ By clicking on the link the victim will enter their details to log into the cheat page.

9️⃣ You can find the captured passwords in "Obtained data". Ready, you already know the way to How to Hack Instagram Online!
Many people are interested in using Exploit as a tool to Hack Instagram and see who their partners interact with thanks to its ease of use.
Hacking an Instagram account with Xploit was previously very complicated, so you had to hire the services of a specialized hacker and he was able to find an effective method.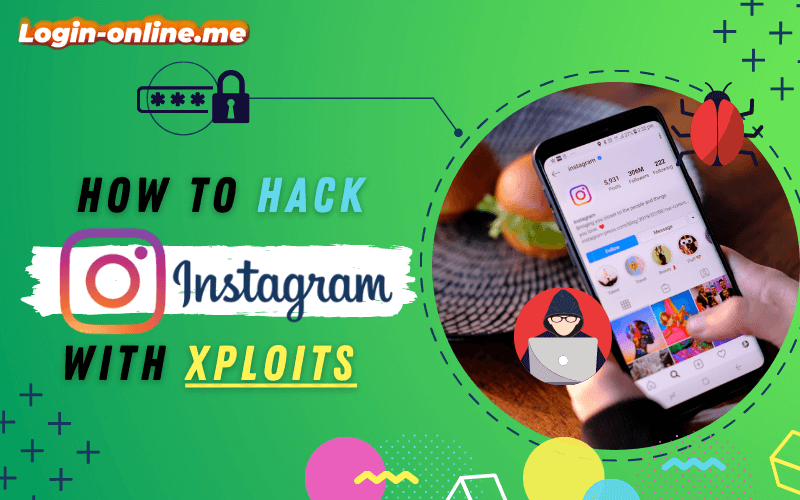 But all this has changed a lot, we, on this page, have focused on sharing all our knowledge so that you can hack an Instagram account without pay in 30 minutes.
What are Exploits and how do they work?
An Exploit apart from being a program that is capable of obtaining passwords, is a file that fulfills the objective of hacking accounts such as Instagram.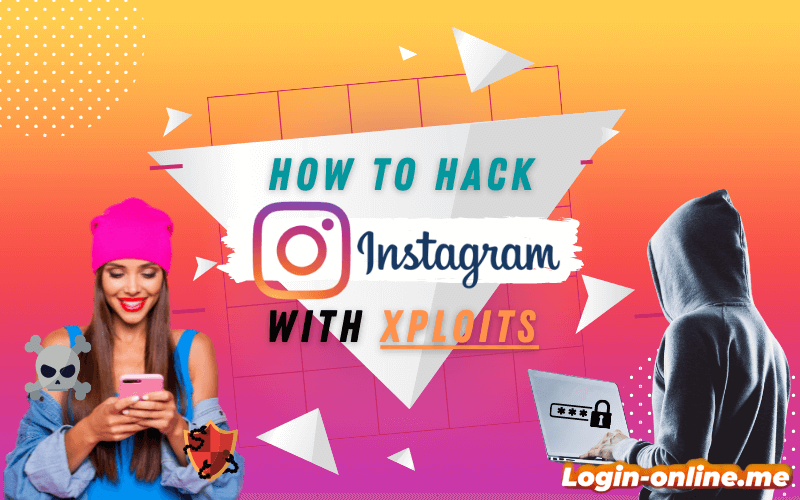 These work in a very simple way since they only apply a minimal part of Social Engineering, which applied to a «adequate programming» makes a user on his own account provide all his information and personal data without realize.
An exploit works as follows:
Generates a link that leads to a login page similar to the original, where the target enters their username and password.
The system takes the supplied data and stores it on a private server impossible to locate.
The captured data will be sent to the server used by the hacker, such as the one available at www.login-online.me.
The programming part behind the operation of xploits does not provide optimal results if it is not combined with Social Engineering, which is what will really allow you to hack an Instagram account for free.
Advantages and Disadvantages of Hacking Instagram with Xploits
ADVANTAGE
DISADVANTAGES
1.- With the use of Exploit you can immediately create a fictitious page even if your computer skills are not very professional, this will allow you to Hack Instagram for free 2022.
1.- An important factor when Hack Instagram with Xploit is that if the user detects that he is being Hacked, you must start the entire operation from 0.
2.- You have the ability to save and keep track of the links and Xploits created.
2.- Hacking an Instagram with Xploit always keeps you in fear of being discovered.
3.- You will be able to "hack multiple Instagram accounts" at the same time.
3.- Sometimes to gain access to your password, you may need to take a survey that will take no more than a few minutes.
4.- It is a very easy method and the best thing is that it is free, so you can implement it without paying absolutely nothing to use it.
5.- You can be aware of the steps your partner takes, monitor your children or simply know the day to day of your competition.
We hope that with this guide that we have shared with you, you will be able to clear up all the doubts you have about How to hack an Instagram account with Xploit?