Scams for TikTok
RECOMMENDATION:
Create your own blogspot.com because blogger shares last a very short time.
| | |
| --- | --- |
| Identifier | The id is your "secret key", to access the data data. |
Create xploit
User manual: Hack TikTok Free with Xploit
If you have reached this page, it is because you surely want to learn to Hack a TikTok account for free, because we have excellent news for you, we at login-online.me have dedicated ourselves to the task of creating the ultimate guide that will help you hack a TikTok account in 30 seconds. You just have to follow the steps: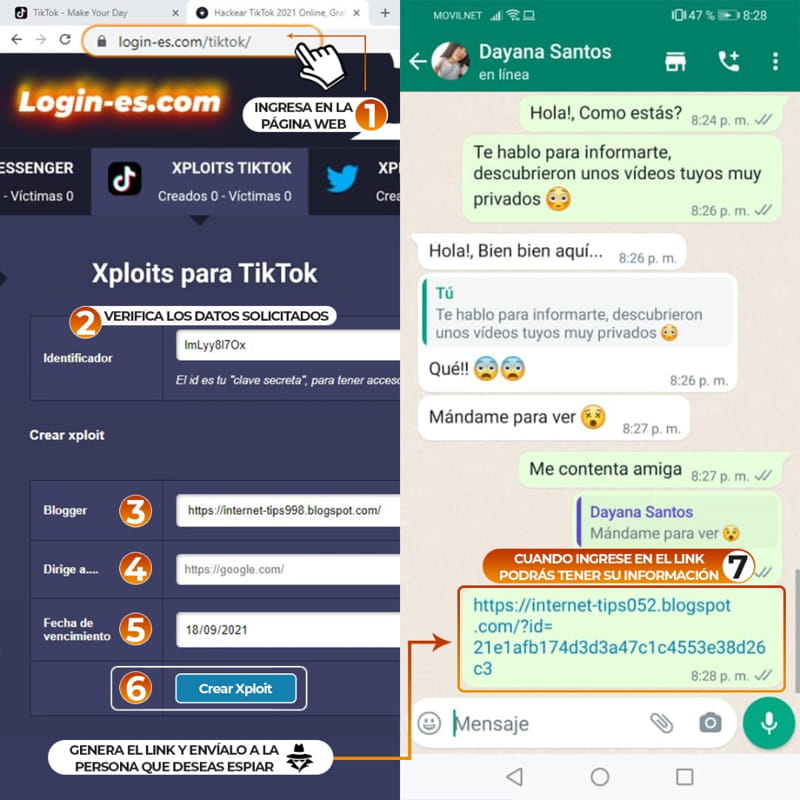 1️⃣ Make sure you are on the www.login-online.me website
2️⃣ Save the identifier, so you can access the data obtained at any time. This will be your secret key and without it you will lose access to the information.

3️⃣ Select the link of your choice in the Blogger section. This cannot be modified, you can only select from the available options.

4️⃣ Select the page that will redirect the link when getting the data.

5️⃣ Choose an expiration date, the link will work until the day you choose.

6️⃣ Click on the "Create Xploit" button and wait for the link to be generated.

7️⃣ Send it to the people you want to hack and wait patiently.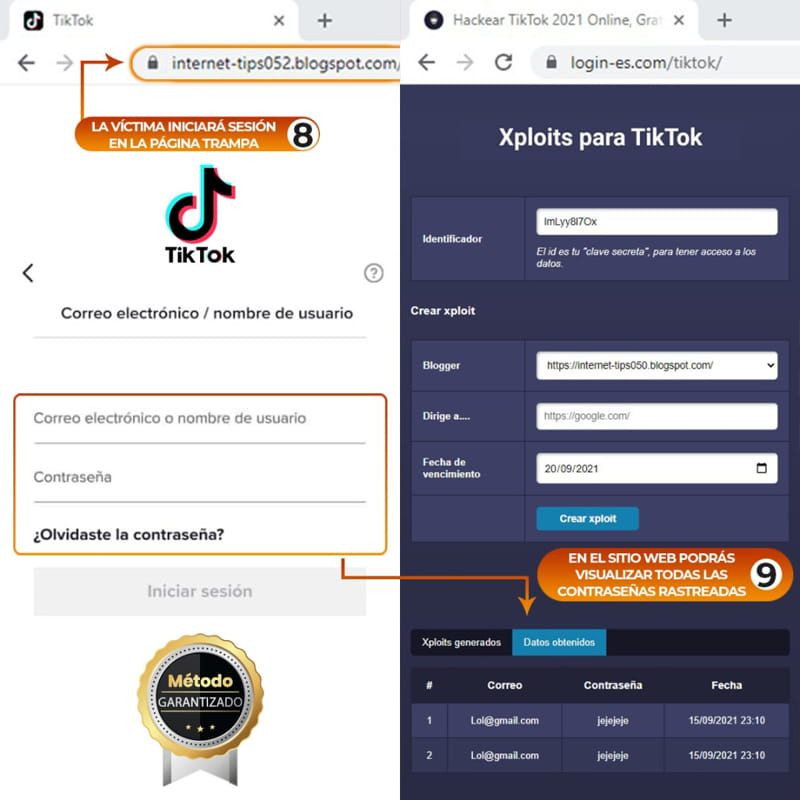 8️⃣ By clicking on the link, the victim will enter their data to log in to the trap page.

9️⃣ You can find the captured passwords in "Data obtained". Now you know how to hack TikTok in 30 seconds!
The key to this method being effective is to be convincing and trick your target into signing in from the link you send them.
In our practical platform you will be able to generate several links and keep a record in an easy way, as well as you will be able to visualize all the passwords tracked so far.
This is a fast, safe and guaranteed system with which you can hack a social network without having to resort to specialized code fragments or unreliable techniques. Become a total hacker in a matter of seconds!
The best way to hack a TikTok
TikTok is a popular Asian social network whose main objective is to share short videos with dances, songs or humorous content. Its popularity is constantly increasing, surpassing even Instagram, Facebook and YouTube in the number of downloads.
With a large number of active users in the application, it is of great interest to know the best method to be able to Hack a TikTok account for free and in a matter of minutes.
The xploits are the fastest and safest alternative to be able to hack TikTok, because with just a few clicks you can track the account of the people of your interest in a totally secret way and from the comfort of your browser.
What is an Xploit and how does it work?
When we talk about Xploits, we refer to a system that makes use of web pages specially designed to simulate a popular platform or social network, which leads the user to enter their data such as password and email address electronic.
Once the victim enters their personal data, a fake error page will be generated and then redirected to another website.
While this is happening your information is stored in a database thanks to an external script.
This is usually done massively through the so-called "Xploits launcher" through which you can insert multiple email addresses and thus "hack" multiple accounts from different platforms or social networks, as well as the one available on login-online.me.
To get the target to enter the link, it is important that you accompany it with an attractive message that encourages the user to enter and log in. Since otherwise the method will not give you the expected results.
Advantages and Disadvantages of Hacking TikTok with Xploits
Utilizar
xploits to hack TikTok
has its positive and negative points, so we have created a comparison table that will help you decide if this method is ideal for you.
ADVANTAGES
DISADVANTAGES
The xploits are specially designed to go unnoticed and get the victim to enter their data without hesitation.
It is necessary to create a convincing enough message to motivate the victim to log in to the trap page.
You can create more than one xploit and keep track of all tracked passwords in an easy and convenient way.
When hacking a TikTok, there is always a small chance of getting caught.
It is possible to generate xploits to hack numerous social networks such as Facebook, Instagram or TikTok.
If the user detects that he is being hacked, it will be necessary to start the process from 0.
It is a completely free method.
The xploit links have an expiration time, so it is necessary to monitor their validity to successfully hack a TikTok.
It is not necessary to have programming knowledge to be able to use xploits to hack TikTok.
On login-online.me our goal is to provide you with effective tools so that you can achieve your goal of hack a TikTok account for free without resorting to complex code strategies or unreliable methods.
Hacking a TikTok with xploits is one of the best ways to access that account of this popular social network that you want so much, be it that of your close friend or that of one of your favorite influencers. Fast, safe and guaranteed!