Scams for YouTube
RECOMMENDATION:
Create your own blogspot.com because blogger shares last a very short time.
| | |
| --- | --- |
| Identifier | The id is your "secret key", to access the data data. |
Create xploit
If you want to use Xploit to hack YouTube for free, we have good news for you, you don't need to have a lot of computer knowledge to get it. There are several methods that you can put into practice, here we are going to explain one of them.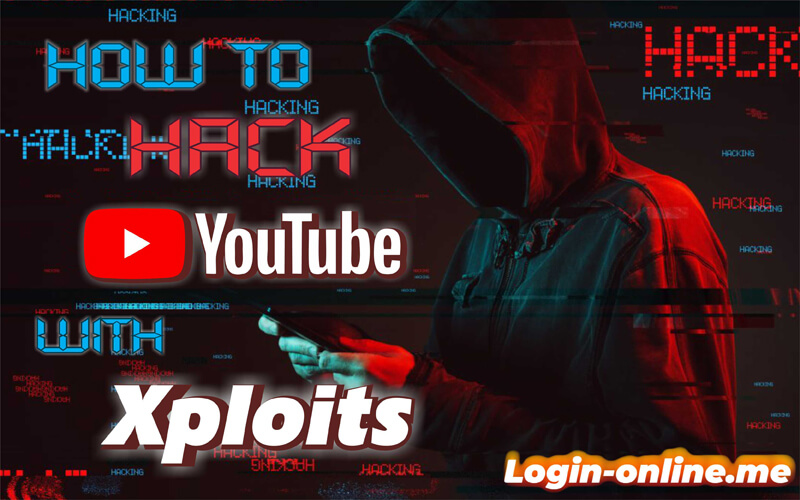 How to use Exploit to hack YouTube?
Spying on social networks is becoming more and more frequent and the reasons may vary. We leave you a small step by step so that you know exactly how to use an Xploit to hack a YouTube account: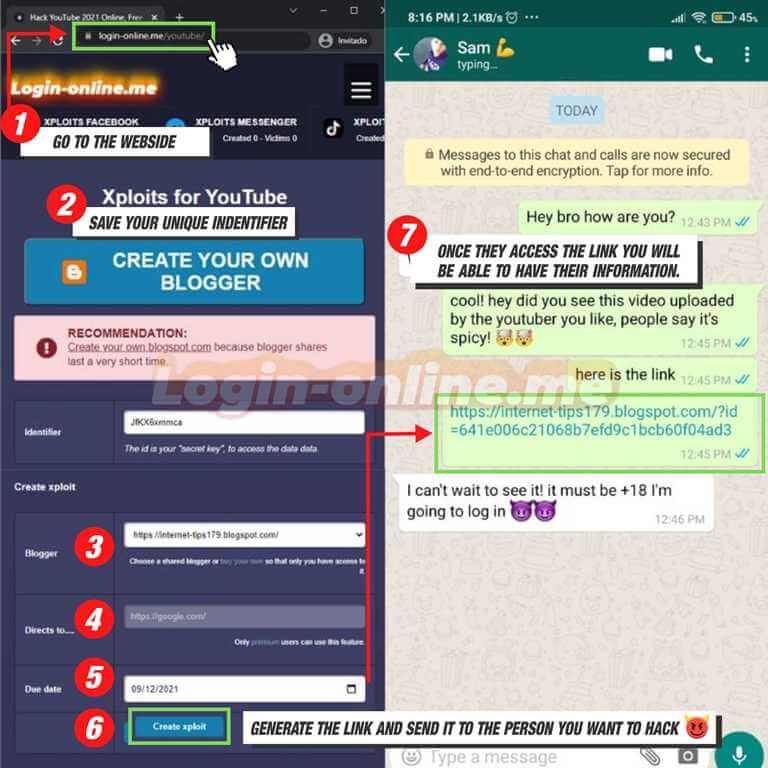 1️⃣ Make sure you are on the website www.login-online.me

2️⃣ Save the identifier, so you can access the data obtained at any time. This will be your secret password and without it you will lose access to the information.

3️⃣ Select the link of your preference in the Blogger section. This cannot be modified, you can only select from the available options.

4️⃣ Select the page that will redirect the link to get the data.

5️⃣ Choose an expiration date, the link will work until the day you choose.

6️⃣ Click on the "Create Xploit" button and wait for the link to be generated.

7️⃣ Send it to the people you want to hack and wait patiently.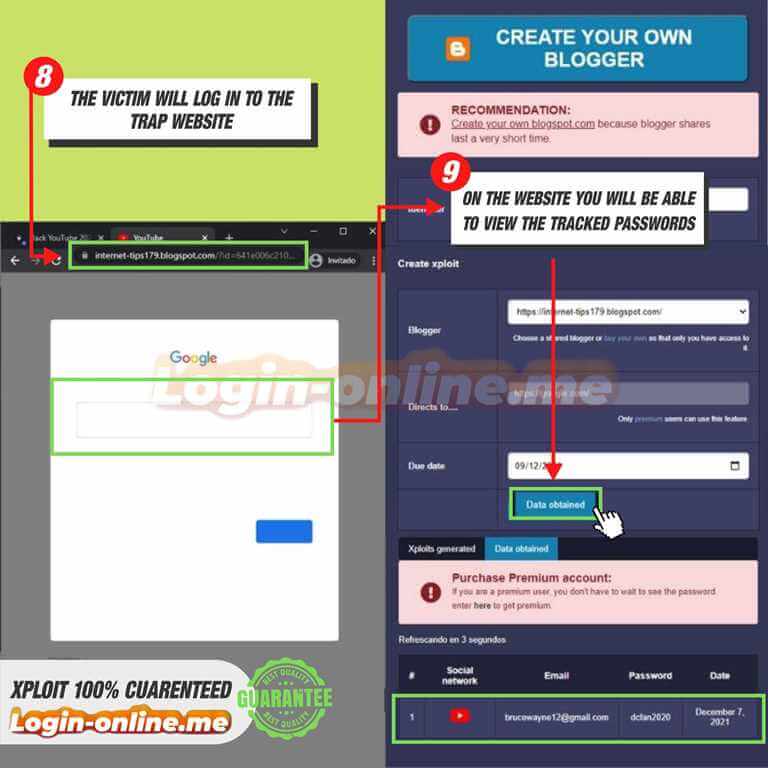 8️⃣ By clicking on the link the victim will enter their data to log into the cheat page.

9️⃣ You can find the captured passwords in "Obtained data". Ready, you know how to hack Facebook in 30 seconds!
If you follow this step by step correctly you will be able to generate false links in just a matter of minutes, you will also be able to keep a record of both the Xploit you have generated and the information you obtained.
It is a very simple tool to use, you just have to follow a few steps and be creative when sending the link to your victim to get their YouTube password.
Exploit for YouTube: everything you need to know before using it
Looking for the best way to hack YouTube account? You are in the right place, here at login-online.me we create several tutorials in order that you can use them in the most optimal way possible, managing to hack any social network such as YouTube.
What are Xploit?
These are programs capable of creating fake web pages, which can temporarily impersonate the home page of YouTube and any other social network. With this tool you can get practically any user data you need, including of course the password.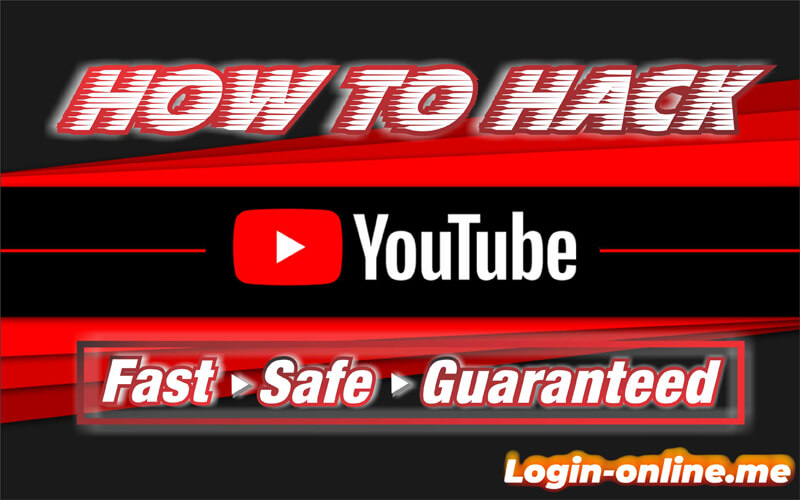 How do exploits work?
The Xploit have a fairly simple way of handling, we will explain it to you:
These can generate a fake link that looks identical to other existing web pages, especially social networks like YouTube.
You just have to make it reach the person you want to spy on and make them enter it.
If your victim enters their login data, they will be copied and redirected to another link, to which only you will have access.
Keep in mind that you must use a convincing message to make your victim fall for the trap. You have to make her believe that she really must log into her YouTube account via that link for it to work.
Advantages and disadvantages of exploits for YouTube
It is important to know well what are the pros and cons of social network spying methods, this being the best way to make good decisions and find out if they really suit you or not.
Next, we bring you a small list of those that we consider the most important to mention:
ADVANTAGE
DISADVANTAGES
With this method you will be able to spy on more than one YouTube account at the same time.
You may get caught if you do things that put your anonymity at risk when spying on a YouTube account.
Using the Exploits in just a few minutes you will have a fake link to send to your victim and get their YouTube password.
Although it is a free method, you may be asked to refer the web or do a survey before accessing the information.
It is easy to use both on the computer and on mobile devices, since it works perfectly in the background.
It is a simple, effective and free method.
Did you like this post where we explain how to use Exploit for YouTube? We hope so and that you decide to use our website, where you will be able to hack a YouTube account easily.