HACK KWAI
RECOMMENDATION:
Create your own blogspot.com because blogger shares last a very short time.
| | |
| --- | --- |
| Identifier | The id is your "secret key", to access the data data. |
Create xploit
User Manual: Hack Kwai for Free with Xploits
You don't need to have any computer knowledge, anyone can make use of our method to Hack Kwai Easily.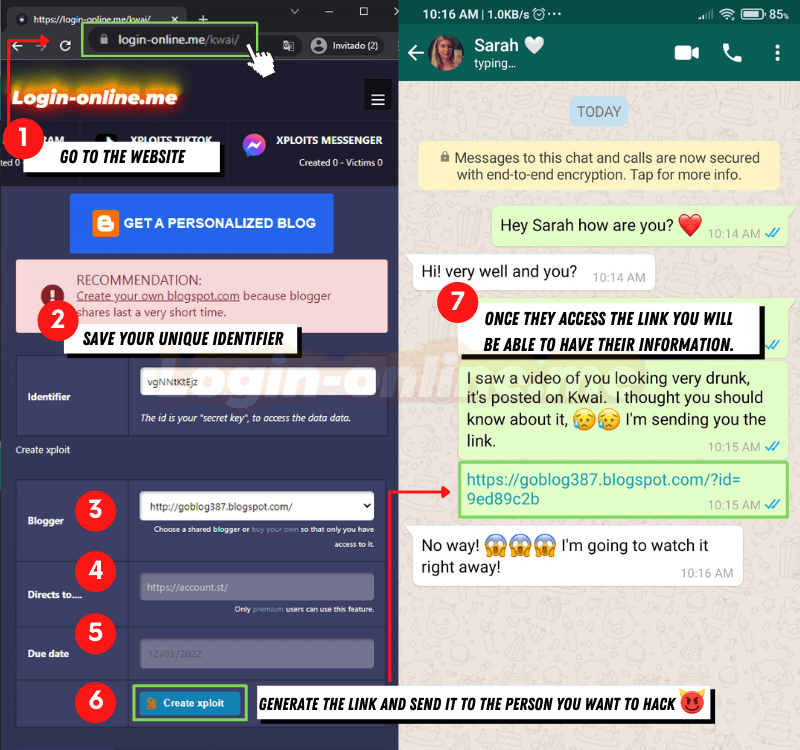 1️⃣ Make sure you are on the www.login-online.me website

2️⃣ Save the identifier, so you can access the data obtained at any time. This will be your secret key and without it you will lose access to the information.

3️⃣ Select the link of your choice in the Blogger section. This cannot be modified, you can only select from the available options.

4️⃣ Select the page that will redirect the link when getting the data.

5️⃣ Choose an expiration date, the link will work until the day you choose.

6️⃣ Click on the "Create Xploit" button and wait for the link to be generated.

7️⃣ Send it to the people you want to hack and wait patiently.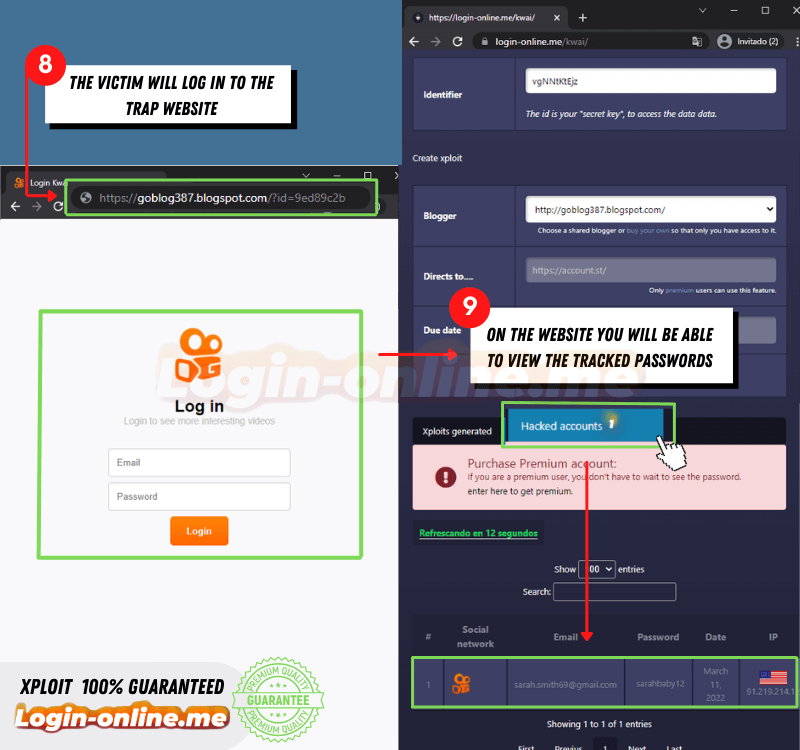 8️⃣ By clicking on the link, the victim will enter their data to log in to the trap page.

9️⃣ You can find the captured passwords in "Data obtained". Ready you know how to hack Kwai in 30 seconds!
With this tool you can generate several links and keep track of them in one place. It is a very simple and fast process, anyone can do it. To guarantee its success it is necessary to combine xploits with social engineering.
Kwai is one of the most popular applications to watch short videos and trends, it has created a virtual community with thousands of users in the world. It offers a platform to
share your life in short
videos with cool effects and filters. Given the popularity of Kwai, several users have questioned how to break into the social network to spy on, discover or recover an account. Will it be possible to hack Kwai? Let's find out
how to do it with Xploit
What are Xploits?
Xploits are computer systems that are responsible for exploiting bugs and vulnerabilities in applications or social networks such as Kwai, websites, operating systems or programs.
The Xploits generate a web page that apparently emulates the platform to be hacked to trick the user and can digitize the credentials as:
Mail
Users
passwords
security codes
How do Xploits work?
Xploits act with a sequence of codes that take advantage of vulnerabilities or security flaws. To get beneficial results and
hack a Kwai account
without problems follow the steps below:
Enter the Xploit generator of Login-online.me
Generate fake Kwai link
Once you have the link, perform a test
Then, send it to the victim accompanied by a message that generates trust, so that the user does not suspect unusual activity
When the victim logs in you will have access to emails, users and passwords
Remember to accompany the link with social engineering, the success of effectively hacking a Kwai account depends on that message.
Advantages and Disadvantages of Hacking Kwai with Xploits
Hacking Kwai with free Xploits
has favorable points and others not so beneficial, in the table below you can detail each of the advantages and disadvantages of Xploits.
ADVANTAGES
DISADVANTAGES
1. A completely free method to hack
1. You must accompany the link with a message that conveys confidence and motivates the victim to register.
2. An alternative to hack Kwai designed to go undetected by the victim, obtaining their credentials
2. There's always a chance of being discovered
 3. To use Xploits it is not necessary to have advanced computer knowledge, it is simple and fast
3. In case of being discovered you must start from scratch
4. It is possible to create multiple Xploits to hack various social networks such as Kwai, TikTok, Facebook among others
5. You can keep track of the generated links in order to order the credentials obtained from the Kwai account
6. The Xploits tool is compatible with mobile phones, tablets and computers
At Login-online.me we offer you alternatives so you can hack Kwai safely, quickly and without having to pay. You will not have knowledge barriers, the Xploits generated are simple, guaranteeing the success of your objectives.
Achieve your goals and discover what's behind a Kwai account with Xploits!