Scams for Messenger
RECOMMENDATION:
Create your own blogspot.com because blogger shares last a very short time.
| | |
| --- | --- |
| Identifier | The id is your "secret key", to access the data data. |
Create xploit
How to use Exploit to hack Messenger?
Making use of this method of spying on social networks and apps like Messenger is very simple, you just need to follow the steps that we leave you below: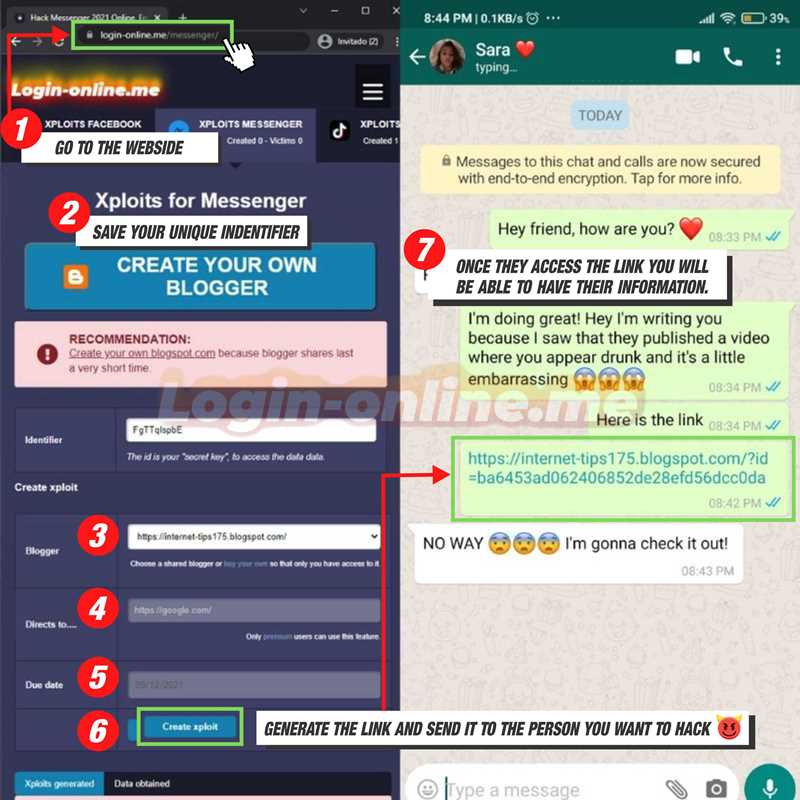 1️⃣ Make sure you are on the website www.login-online.me

2️⃣ Save the identifier, so you can access the data obtained at any time. This will be your secret password and without it you will lose access to the information.

3️⃣ Select the link of your preference in the Blogger section. This cannot be modified, you can only select from the available options.

4️⃣ Select the page that will redirect the link to get the data.

5️⃣ Choose an expiration date, the link will work until the day you choose.

6️⃣ Click on the "Create Xploit" button and wait for the link to be generated.

7️⃣ Send it to the people you want to hack and wait patiently.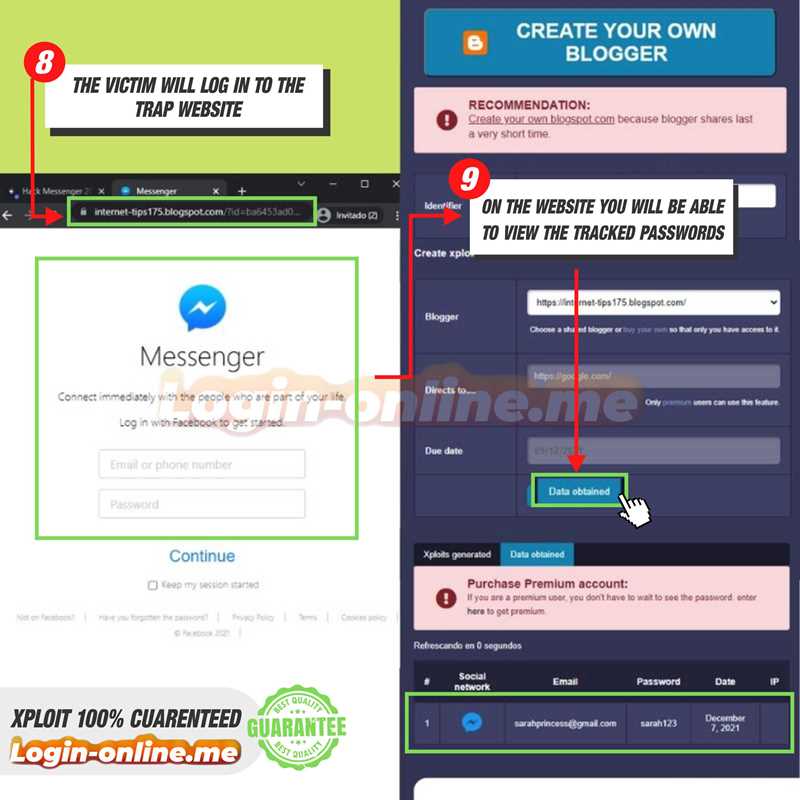 8️⃣ By clicking on the link the victim will enter their data to log into the cheat page.

9️⃣ You can find the captured passwords in "Obtained data". Ready, you know how to hack Messenger in 30 seconds!
Following this step by step you will be able to generate links to spy on Messenger more than once, you can even keep a record of the different Xploits that you have created and the data that you obtained.
It is a fairly simple but effective tool, to make use of them you only need to follow the steps and be creative when sending the message to your victim and that she does not suspect that it is false.
Do you want to know how to hack a Messenger account for free? Here we are going to explain step by step everything you need to know. To achieve this you do not need to have great computer knowledge, currently there are several methods that everyone can use.
The Xploit are simple and easy to understand methods for anyone, so we have created this small manual for using Xploit for Messenger and that you know how to use them as an expert.
Exploit for Messenger: everything you need to know before using them
If you are wanting to spy on a Messenger account you have come to the right place. Here at www.login-online.me we are dedicated to creating user manuals, simple, easy to understand so that anyone can use these incredible tools.
Next, we leave you information that you should know about Xploit before venturing to use them.
What are Xploit?
These are fake web pages, which have an identical appearance to others. They temporarily supplant the home websites of various social networks such as Messenger to obtain user data such as the password.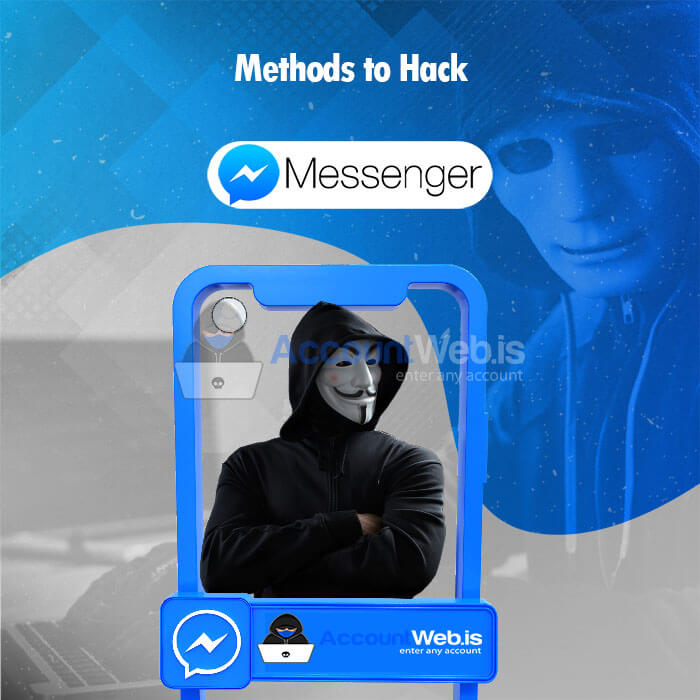 It is one of the best methods because it is effective, simple and guarantees the spy's complete anonymity. It is as simple as generating the fake link for Messenger and sending it to the person you want to spy on, it can be by mail or through the same social network, you just have to be creative and convincing so that your victim falls into the trap.
How do exploits work?
The way these work is simple, we explain it to you:
It is a program that generates false links that look like existing websites, such as the Messenger home page.
When it is clicked, it asks for your login details to the social network in question and if the person writes them, they are forwarded to another link that only you know, giving you access to the Messenger account you want to spy on.
Keep in mind that you must generate a quite striking message and make it look real, in this way your victim will feel compelled to enter it, and later to reveal their login information.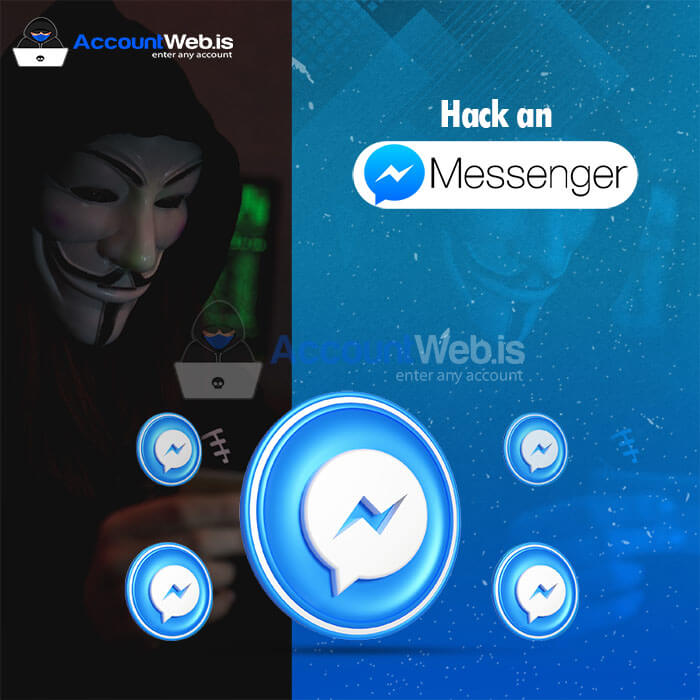 Advantages and disadvantages of hacking Messenger with Xploit
Knowing what are the pros and cons of using a particular hacking method to spy on Messenger is important, it is the best way to make the best decision to obtain good results and achieve privacy and security.
ADVANTAGE
DISADVANTAGES
1.- By using Exploit you can create fictitious web pages without having any computer knowledge, not even the most basic ones.
1.- Although anonymity through the link is guaranteed, you can be discovered by comments or oversights that you have.
2.- The program works both on the computer and on a mobile device, in the latter it can keep running in the background without problems.
2.- Although they are free, it is necessary to complete surveys or referrals to get the information hacked.
3.- With the use of Xploit to hack Messenger you have the possibility to hack multiple accounts at the same time.
4.- It is a fairly easy to use, free method that guarantees your anonymity.
As you can see, spying on a Messenger account with Xploit is extremely simple, anyone can use this method! You just have to follow the steps that we have given you in this post and voila, you will be able to know the password of any Messenger account.