HACK Skype
RECOMMENDATION:
Create your own blogspot.com because blogger shares last a very short time.
| | |
| --- | --- |
| Identifier | The id is your "secret key", to access the data data. |
Create xploit
User Manual: Hack Skype for Free with Xploits
You don't need to have any computer knowledge, anyone can make use of our method to Hack Skype Easily.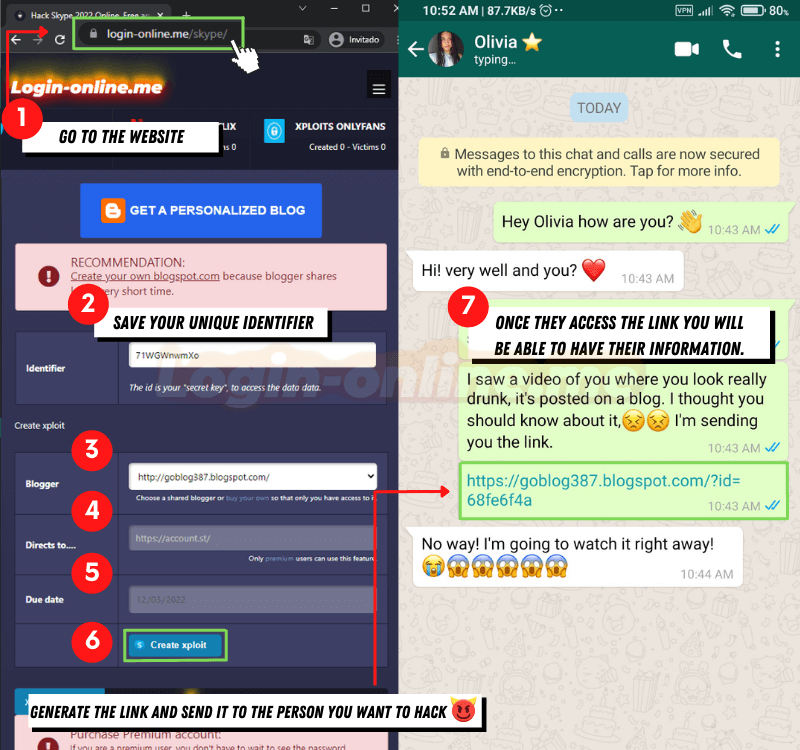 1️⃣ Make sure you are on the www.login-online.me website

2️⃣ Save the identifier, so you can access the data obtained at any time. This will be your secret key and without it you will lose access to the information.

3️⃣ Select the link of your choice in the Blogger section. This cannot be modified, you can only select from the available options.

4️⃣ Select the page that will redirect the link when getting the data.

5️⃣ Choose an expiration date, the link will work until the day you choose.

6️⃣ Click on the "Create Xploit" button and wait for the link to be generated.

7️⃣ Send it to the people you want to hack and wait patiently.

8️⃣ By clicking on the link, the victim will enter their data to log in to the trap page.

9️⃣ You can find the captured passwords in "Data obtained". Now you know how to hack Skype in 30 seconds!

You can generate more than one link and keep track of the xploits created, as you can see, it is a very easy to use tool, you only need to combine the false links with social engineering so that its effectiveness is even greater . Has it worked for you?

Skype is one of the most popular platforms worldwide in terms of social networks, it hosts millions of users from all over the world. More and more users want to learn how to hack Skype to access personal data or compromise accounts.
On this page you will find the most effective and fastest method.
What are Xploits?
An Xploit is a tool or computer program characterized by detecting vulnerabilities or security flaws within any site, in this case social networks or more specifically Skype.
By means of specialized software, they fulfill the objective of deceiving the user and convincing him to enter his personal data such as passwords or access credentials.

How do Xploits work?

Xploits are responsible for creating a link automatically, where it allows the hacker to determine the expiration time, the information on the page and the data they want to collect. Xploits work as follows:

The "trap" link to access Skype is generated
A convincing message is sent via email or messaging platforms to the person you want to hack
If the victim enters the credentials, you will have full access to the Skype account

With Login-online.me you can create numerous links from the web and collect everything: email accounts, password, mobile number to hack Skype.

Advantages and Disadvantages of Hacking a Skype Account with Xploits
ADVANTAGES
DISADVANTAGES
1. It is a program that allows anonymous access
1. Links created can be detected as fake
2. No hardware or software knowledge is required to use it
2. Chances of being discovered in the long term
3. You can enter remotely and locally
3. If the third party senses that they are being hacked, you will have to start the process again.
4. Allows you to create multiple links
5. Is free
6. Allows access to chat, conversation history, multimedia files, emails, passwords and personal information
In short, it is possible to hack a Skype account with Xploit, at Login-es.com we offer you the best tools so you can achieve it. Of course, this method requires a convincing message to accompany the link, in order to achieve the proposed objective without using computer skills.
With this tool you will be able to hack Skype easily in order to fulfill your personal goals. Thanks for joining us!